Turin Shroud Dictionary
© Stephen E. Jones[1]
"Fn-Fz"
This is page "Fn-Fz" of my Turin Shroud Dictionary. For more information about this dictionary see the "Main index A-Z" and page "A."
[Index] [Previous: "Fa-Fm"] [Next: "Ga-Gm"]
---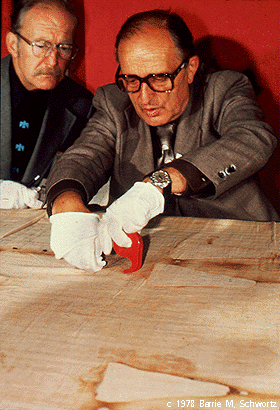 [Right: Max Frei-Sulzer[2] (see below), with STURP's Ray Rogers (1927–2005) looking on, taking pollen samples from the Shroud in 1978, in conjunction with (but not part of) STURP's investigation of the Shroud.]

face-cloth (see sudarium)

fold marks
forger
forgery
Fourth Crusade
fraud

Frei-Sulzer, Max. Max Frei-Sulzer (1913-83) was an eminent Swiss criminologist, with a doctorate in Botany. Frei was an expert in Mediterranean flora, his doctoral thesis having been on the flora of Sicily. Frei was the founder and for ~24 years from 1948 to his retirement in 1972, Director of the Criminology Department of Switzerland's police. Frei was a pioneer of forensic science, and in particular the use of pollen in proving accused persons at the scene of a crime. This is because pollen grains are microscopic and have a surface structure, size and shape which is unique to the species of plant they come from. Although he was a Protestant with no interest in relics, in 1973 Frei was appointed the Turin Commission on the Shroud to verify the authenticity of photographs of the Shroud submitted to it in 1969.
While examining the Shroud, Frei noticed there was dust on its surface. Frei knew that pollen on the Shroud could indicate which geographic region it had been in. Frei had developed the tape uplift method of collecting trace evidence which was a major advance in forensic science and still used today. Frei was permitted to take samples of dust from the Shroud by his sticky tape method for private analysis. The Shroud was hanging vertically so Frei could only take samples from the frontal foot end. Back in Zurich, in the following years, Frei identified a total of 48 different varieties of pollen-grains from the Shroud. In 1978 Frei obtained further dust samples containing pollen from the Shroud. Frei extracted the pollen grains from the sticking-tape, cleaned them, and studied them from all sides under an optical microscope. But Frei had only limited success obtaining pollen-grains or their photographs to compare with the Shroud pollen. So Frei undertook a systematic study of the pollen of plants growing in countries where the Shroud, if it was authentic, might have been. He realised that a positive identification of such pollens would be a confirmation of the Shroud's stay in that particular botanical region. So from 1974 to 1978, Frei undertook seven field trips in different flowering seasons through Palestine, Turkey, Cyprus, France and Italy, for direct comparison under the microscope. Frei was successful in that the number of unidentified pollens steadily diminished. However Frei found that it was necessary to study the tiniest details of pollen structure under s scanning electron microscope (SEM), which he did, with the help of laboratories at Vercelli, Italy and Zurich, Switzerland.
Frei's summary of results included his identification of 56 different varieties of pollen on the Shroud, although presumably due to 2 later additions there were 58. These fell into the categories of: A. Desert plants, from sand deserts or halophytes (16 species). The latter grow in soils with a high concentration of salt. These plants grow around the Dead Sea but are completely missing in Italy and France. So "they could not have contaminated the Shroud during the last six centuries of its known history" (my emphasis). B. Plants of rocky hills and stony places (ruins) in Palestine and neighboring countries (7 species). C. Mediterranean plants, which grow in Palestine as well as in France and Italy (16 species). D. Plants from Anatolia, mostly steppic plants (16 [6 unique] species). These grow in the Near East, from Iran to the Eastern Mediterranean. "The contamination of the Shroud with these pollens could not have happened in Europe. They are strong evidence for the Shroud's stay in Edessa as theorised by Ian Wilson and others" (my emphasis). E. Plants growing near. A few plants in groups B, C and D can be found also around Constantinople (today Istanbul). Also one species of pollen on the Shroud, Epimedium pubigerum DC, has a more local distribution around Constantinople (Istanbul) and does not grow in the Near East nor in Western or Middle Europe, but only in Turkey and adjacent Bulgaria. These confirm the Shroud's stay at Constantinople. F. Plants widely distributed in Central Europe or cosmopolitans (12 species). These all grow in France and Italy where the Shroud has been for the last six centuries, and exposed in open public exhibitions. Frei therefore concluded:
"Groups A, B and C of plants on the Shroud from Palestine and Anatolia are so numerous, compared to the species from Europe, that a casual contamination or a pollen-transport from the Near East by storms in different seasons cannot be responsible for their presence, as I have explained in several conferences and publications. The predominance of these pollens must be the result of the Shroud's stay in such countries where these plants form part of the normal vegetation. A transport by migrating birds or a contamination with desert plants by pilgrims can be excluded because they had no possibility of a direct contact with the Shroud. ...."
Since
the Shroud has never been outside Europe since the mid-14th century
, even
one
of these non-European pollens on the Shroud would be a problem for the medieval forgery theory and the
1260-1390 radiocarbon date of the Shroud
. Frei also collected pollen from the
Sudarium of Oviedo
and
confirmed its historical route from Jerusalem through North Africa and into Spain
. Regrettably Frei
died unexpectedly in 1983
, before he could finish and publish his pollen research.
In 1990 Dr. Alan Whanger reported he had found images of 28 different flowers and plants on the Shroud, 25 of which were among the pollens identified by Frei. Whanger's flower images and indirectly Frei's pollen identifications were later confirmed by Professor Avinoam Danin a world authority on the flora of Israel, reinforcing Frei's claims that the Shroud has been in Israel.
Frei's pollen identifications have had a mixed reception from palynologists. In 1983, Israel's leading pollen expert, Dr. Aaron Horowitz, after reading Frei's 1982 article in Shroud Spectrum International, stated that Frei's work was sound. Israeli palynologist Uri Baruch in 1998 studied Frei's pollen slides held by Whanger's Council for Study of the Shroud of Turin. Within a restricted protocol that Frei's pollens were not to be damaged or destroyed, Baruch found that of 34 pollen grains reported at the species level by Frei, 3 (Gundelia tournefortii, Ricinus communis, and Lomelosia [Scabiosa] prolifera) were correct. However Baruch did find that all Frei's determinations are correct at the higher taxonomical level. In 2001 palynologist Thomas Litt was unable to confirm Frei's identifications due to their covering of sticky tape wax. But Frei had, unlike Baruch and Litt, painstakingly extracted his pollens from the sticky tape, cleaned them, and compared them with pollens from present-day plants.
While Frei's 1973 pollen tapes were not handed over to ASSIST by Frei's widow and now cannot be found, ASSIST's Paul Maloney advised me by email:
"You say that ASSIST never received the 1973 tapes. This is true. Mrs. Frei speculated to our team that the tapes taken from the Shroud in 1973 by her husband might have been left in Italy where the SEM work was done. She didn't really know. However, ASSIST probably did acquire the 1973 pollen grains extracted from those tapes. Dr. Frei created two different categories of studies. In his `Grey' box and in his `Green' box in the collection are a series of microscope slides with various pollen grains mounted on them. One group he labeled `MV' (Microscopie Vergleich?) i.e. modern fresh pollen grains he had collected during his seven trips to gather control samples, and the other type of slides were labeled `MS' which I decipher as (Microscopie Sindone?). In Frei's published materials he describes that he cut a `T' shaped incision in the 1973 tapes and teased out the grain. Some of this was done using a triangular shaped piece of sticky tape which he actually mounted, tape and all, on a microscope slide and covered with a cover glass. In macrographs we can see examples of these mounted triangles with the pollen on them. It is important to know that in no case did Dr. Frei remove any pollen grains from the 1978 tapes. They are completely intact. Hence, Dr. Frei's entire case was built upon his studies of the 1973 tapes. All of the SEM photos were done with fresh pollen grains taken from his collection gathered during his seven trips throughout Europe and the Middle East as control material for his study." (emphasis original)[3]
Turin botany professor, the late
Silvano Scannerini (1940-2005)
, who, while critical of aspects of Frei's writings, nevertheless concluded that Frei's "pollens [are] of plants from the Near East [and so] are an indirect confirmation of the plausibility of the voyage of the Shroud from Asia to Europe"[
4
].
Extreme anti-authenticists Joe Nickell and Steven Schafersman have attempted to destroy Frei's reputation after his death, when he no longer could answer them. They accused Frei of fraud because STURP did not find much pollen on the Shroud. But Frei who, unlike STURP, was an expert at collecting pollen, pressed his sticky tape deep into the Shroud's fibres, while STURP used a pressure limiting applicator. Also Frei wrongly identified the "Hitler Diaries'" handwriting as authentic, when they were later found, on other evidence, to be forged. But this had nothing to do with Frei's identification of pollens, which unlike handwriting, was his specialty. That Frei was no fraudster is self-evident in the enormous amount of painstaking work he did over a long period of time, delaying publication for many years until he had gathered sufficient evidence. If Frei had been a fraudster he would have published quickly to enjoy the glory. Evidence that Frei was not a fraudster is evident in his admission that he had been unable to identify any pollens on the Shroud which supported its transfer from Constantinople to Europe:
"So far I have not found any evidence for the Shroud's presence in Cyprus or other regions touched during the transfer from Constantinople to France and Italy."
If Frei had been a fraudster he would have
manufactured
that evidence. So there is no good reason to doubt
Frei's main conclusion
:
"The pollen-spectrum as described leaves no room for the hypothesis of a medieval fake painted in France. On the contrary, the pollen-deposits are a most valuable confirmation of the theory that the Shroud traveled from Palestine through Anatolia to Constantinople, France and Italy."
---
Notes:
1. This page, and each page in my Turin Shroud Dictionary, is copyright. However, permission is granted to quote from one entry at a time within a page (e.g. "Frei-Sulzer, Max," not the whole page "F"), provided a link and/or reference is provided back to the page in this dictionary it came from. [return]
2. Schwortz, B., "The 1978 Scientific Examination," Shroud.com, photograph https://www.shroud.com/78strp6.gif. [return]
3. Maloney, P., 2016, Email: "Re: The Max Frei entry in your Shroud Dictionary," 11 July, 4:39 AM. [return]
4. de Wesselow, T., 2012, "The Sign: The Shroud of Turin and the Secret of the Resurrection," Viking: London, p.114. [return]

Created: 7 May, 2015. Updated: 17 June 2018.